Golf Monthly December issue
Golf Monthly magazine brings you a special look at 100 hidden gems from around the UK and Ireland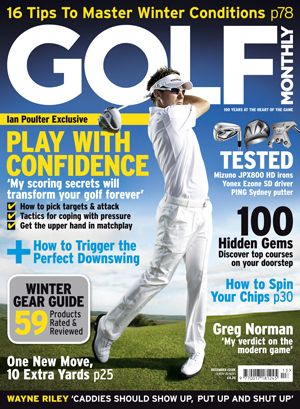 As British and Irish golfers we are truly blessed with some of the greatest courses in the world not only on our doorstep, but also accessible to the ordinary club golfer who is prepared to pay for the privilege. However, like most good things in life, the best come at a cost. Be it a special holiday, a bottle of fine wine or a meal at a great restaurant, the higher the quality of the product or service, the higher the cost. And the reality is that just as most of us can't afford to go on expensive holidays, drink fine wine or visit a top restaurant every week, most of us can only afford to play at a Top 100 course once or twice a year.
What, then, to do for all the times during the year when you fancy a round of golf away from your home track, but don't have the resources to splash out on a premier course? Take a bow, the 'hidden gem'. The hidden gem tag is bestowed on a great many courses (often incorrectly in my opinion), but for the purposes of compiling our list of 100 of the finest of this genre, we have excluded any course featured in our current Top 100 (and 'Next 100') rankings, published in the December 2010 issue.
We look in greater depth at what constitutes a hidden gem but broadly speaking they are defined by their ability to provide a great golfing experience at a very affordable price. And the good news for us is that the British Isles boasts scores of such gems, many, no doubt, just a modest drive from your home. Having got ourselves a definition, we needed to find someone to whittle down over 200 contenders to the final 100.
Enter Golf Monthly's resident golf course aficionados, Jeremy Ellwood and Rob Smith, who have played 535 and 695 different courses respectively. While both have played almost every course in our Top 100, the majority of tracks they have teed it up at would better fit the 'hidden gem' mould. Hidden gem courses are also the type that our top British and Irish tour pros grew up playing on.
In recognition of this, we have peppered our reviews with the thoughts of six top European Tour players - all of whom are ambassadors for FootJoy (opens in new tab), who have supported the hidden gems feature. Among the six are none other than the current world number one, two and three golfers. Luke Donald, Lee Westwood and Rory McIlroy all learned their trade on their local courses, and they provide a fascinating insight into the hidden gems that helped make them the golfers they are today.
We believe that this combination of expertise and insight will result in the most useful guide to the 'real' courses of the British Isles ever produced by a golf magazine. But, very much like our Top 100, we don't profess our list to be definitive. Course lists and rankings must possess a degree of subjectivity, so we'd welcome your thoughts on the courses we have included, and also any favourites of yours that we may have missed.
Mike has been a journalist all his working life, starting out as a football writer with Goal magazine in the 1990s before moving into men's and women's lifestyle magazines including Men's Health, In 2003 he joined Golf Monthly and in 2006 he became only the eighth editor in Golf Monthly's 100-plus year history. His two main passions in golf are courses, having played over 400 courses worldwide, and shoes; he owns over 40 pairs.
Mike's handicap index hovers at around 10 and he is a member of four clubs: Hartley Wintney, Royal Liverpool, Royal North Devon and the Royal & Ancient Golf Club of St Andrews.