England - East Anglia
This serene and historic section of England is perfect for a relaxing golf break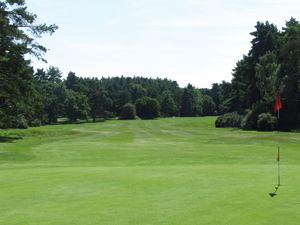 For more than five centuries Bury St Edmunds was visited by pilgrims from all over the world, flocking to the shrine of the martyred Edmund, King of East Anglia. And it was at the town's Abbey in 1214 that the English barons met to swear the oath that would eventually force King John to accept the Magna Carta. It was against this historic backdrop that I set up base for a fantastic tour of East Anglia, on which I would discover an area filled with great golf.
My previous experience of the game in this area was limited to say the least but Golf Monthly's editor assured me that I was in for a real treat, particularly when I visited Royal Worlington and Newmarket Golf Club.
For anyone who, like me, is fascinated with the history and tradition of the game, a visit to Royal Worlington is a must. Founded in 1893 the nine-hole layout was described by Bernard Darwin as the "Sacred Nine" and after my visit I would agree that there is no better description.
It is a wonder in itself that nine holes were squeezed onto this piece of land, but the fact that each is so very different and equally as entertaining makes this a magical place to play. Crossover holes and rows of trees were used brilliantly in the original design and apart from some subtle changes the course remains true to its origins.
The clubhouse represents everything good about the game and while various improvements have been made it remains unspoilt. When you play the course for a second time you will no doubt discover a whole new adventure as subtle humps and bumps affect your ball in completely different ways - this really is something special.
The 5th is a bunkerless par 3 that plays over the 4th green to a target surrounded by intimidating slopes - this is a fine example of a hole that doesn't need to change to accommodate the modern game.
The club is extremely welcoming to visitors but be sure to arrange games in advance with the secretary.
After a thrilling day I found Ravenwood Hall Hotel, just outside Bury St Edmunds, offered a relaxing environment in which it was easy to unwind. The hotel is set in seven acres of woodland and offers excellent food and a friendly service.
While in the area a trip to the racing at Newmarket offers some excitement for those who enjoy a flutter. The Millennium Grandstand is an impressive sight that dominates the horizon and is well worth a visit.
From the challenging opening par 3 to its tough, uphill, par-4 finish, Thetford Golf Club is a layout set in beautiful woodland.
The holes meander brilliantly through pine, oak, and birch trees while heather enhances the aesthetics as well as increasing the difficulty.
While some holes offer an advantage to big hitters there are some great doglegs where a well placed tee shot will set up good birdie opportunities.
As well offering very reasonable green fees, Thetford have created an excellent choice of membership categories to make the game accessible for all. These include the particularly forward-thinking Breckland Membership where you only pay for the golf you play.
Visitors will receive a warm welcome from staff and members alike and the beautiful surroundings mean you will certainly enjoy your day out.
A little further afield is The Gog Magog Golf Club which boasts the impressive combination of one of the oldest courses in the area and a modern American-style layout. The layouts complement one another brilliantly and playing both offers refreshing variety.
First-time visitors will be amazed at the sloping fairways on both tracks compared to the relative flatness of the majority of East Anglia.
The Old Course dates back to 1901 and demands accuracy from start to finish. Knowing your yardages could prove key due to the drastic changes in elevation and punishing slopes around many of the greens.
The newer Wandlebury Course places the emphasis more on long hitting and avoiding deep, well-placed bunkers. The course was recently given the honour of holding Open Regional Qualifying ? testament to its rapid maturity. Great views across Cambridge are an added incentive to make the trip.
East Anglia truly is a beautiful place to visit with Bury St Edmunds, Cambridge and Newmarket just some of the areas drenched in history and culture. I left with a real urge to revisit the courses I had played and knowing that there were many more fine layouts to explore.
CONTACTS BOOK
Where to play
Royal Worlington and Newmarket
t: 01638 712216
w: www.royalworlington.co.uk
stats: par 70, SSS 70, 6,210 yards
Thetford
t: 01842 752169
w: www.club-noticeboard.com/thetford
stats: par 72, SSS 73, 6,849 yards
The Gog Magog
t: 01223 247626
w: www.gogmagog.co.uk
stats: Old - par 70, SSS 70 6,398yards; Wandlebury - par 72, SSS 72, 6,735 yards
Where to stay
Ravenwood Hall Hotel
t: 01359 270345
w: www.ravenwoodhall.co.uk
A pretty hotel set in seven acres of woodland and gardens. Has an excellent restaurant and comfortable bar area.
Angel Hotel
t: 01284 714000
w: www.theangel.co.uk
A warm and personal service opposite the cathedral in Bury St Edmunds - 74 bedrooms in a variety of styles.
Off course
Newmarket Races
See some of the world's leading horses in action at an impressive venue and discover over 350 years of British racing at the National Horse Racing Museum.
Theatre Royal, Bury St Edmunds
After two years of extensive restoration, this fantastic theatre is open once again. The Grade 1-listed playhouse is the only surviving example of a Regency theatre in this country.
Cambridge University Botanic Garden
Opened to the public in 1846, the Cambridge University Botanic Garden develops and displays over 8,000 different plant species in 40 acres of beautiful landscapes.
Paul joined Golf Monthly in 2006 in a junior role and has since worked as senior staff writer and now as technical editor. He writes equipment and instruction content and tests the vast majority of golf clubs that are introduced every year.