Caribbean links: the Abaco Club
Tom Mackin writes about a truly unique course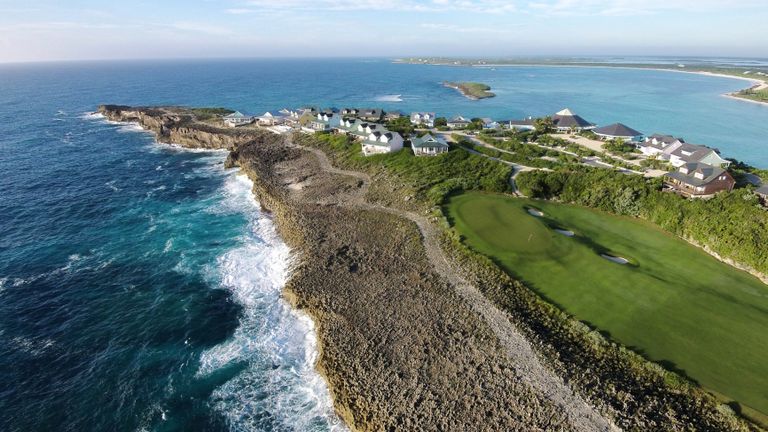 Tom Mackin writes about one of the most unique courses in the world.
Is there such a thing as a tropical links course? The mere question can ignite a debate among course architecture buffs, but The Abaco Club in the Bahamas makes a strong case in the affirmative.
Opened in 2004 on Great Abaco Island, an hour's flight from the east coast of Florida, the private members-only club was the brainchild of developer Peter DeSavary and part of a luxury real estate community.
DeSavary is long gone, but the most recent change in ownership is having a major impact on the property. New owner Southworth Development, based in Massachusetts, came on board late last year and is no stranger to links golf.
The company developed and owns Machrihanish Dunes in Scotland, which debuted in 2009. At The Abaco Club, the company has already started an infusion of an estimated £16 million on multiple projects.
Course upgrades (including bunker enhancements and a new state-of-the-art practice facility) along with renovations to the Cliff House restaurant and Buster's Beach Bar are to be completed this year.
A new two-story clubhouse overlooking the beach (with a restaurant, concession/store front, fitness center and suites/rooms accommodations for members and their guests) and a new marina are expected to debut next year.
"The Abaco Club has everything that money can't buy," says David Southworth, President and CEO of Southworth Development.
"It's a gorgeous setting with a well thought out master plan and a passionate membership. It's a perfect complement to our existing properties and we look forward to taking this world-class facility to an even higher level."
Non-members can currently visit up to three times with a limit of 14 days per visit. Nightly rates for one-bedroom cabanas overlooking the opening holes range from £254 to £448 (high season is January through March), while multi-bedroom homes are also available for both short-term accommodations and real estate ownership.
The non-resident international membership initiation fee is currently £6,446 plus £3,223 in annual dues. For that you receive 20 annual tee times annually, participation in tournaments or member events based on availability, and unlimited access to all other facilities. The property is accessible via directs flights from Nassau, Miami, Ft. Lauderdale, West Palm Beach and Orlando, Florida.
The atmosphere on property exudes the casual atmosphere expected of a Caribbean setting, with personal golf carts the main means of transport, an open air restaurant and bar (the aforementioned Buster's) with views of the beach and crescent-shaped Winding Bay, snorkeling and fishing options, and a menu of potent tropical drinks (such as the well-named Abaco Smile) that can help the real world drift away rather quickly.
But back to the links argument. Ever present wind and rumpled fairways? Both are found here. Using swaying palm trees as your aiming point? A bit different from the standard links setting, true. Panoramic views of the mesmerizing turquoise-colored Caribbean? Well worth the journey.
Darren Clarke, a frequent visitor, liked it so much he used to practice on the 7,183-yard before The Masters and even got married on the white sand beach in 2012. Lee Westwood, Sam Torrance and Matt Kuchar are others who have played through.
"They liked it because it's a tough set up from the back tees, especially the first time you play it," says grounds superintendent Mark Aitken, who notes the unofficial course record is a 65 by Clarke.
"I just let visitors know this is not a resort course," said Aitken, who worked at The Carnegie Club at Skibo Castle in his native Scotland before coming to The Abaco Club during the construction phase.
"Because many do come over and hear it's a tropical links, they say yeah, yeah. They think it will be just like a course in Florida or some other resort. You really can't hit a shot here without thinking.
"The greens are firm – you really don't see any pitch marks. You need to come in short of the hole and let it run up. I think (course designer) Tom Mackenzie really outdid himself here."
Aitken has his own favorite stretch of holes, which includes the fifth, a 312-yard par 4 bookended by two par 3s. "The fifth is a short par 4 like the 17th at Skibo," he says.
"You need to hit the perfect shot (over a tree and then a bunker fronting the green) to get to the hole. The smart play is an iron or hybrid up the right side, and then chip to the right level of the green. I just like that challenge. You have to think before you take out the club."
The closing trio of holes is equally as memorable with a Cape-style par 4 16th, the par 3 17th with an elevated tee and panoramic view, and a stout par 5 closing hole.
While acknowledging the unique location, Mackenzie stands firm when asked about the authenticity of the links setting. "Donald Steel, Martin Ebert and I all love links golf: the role that the ground game plays; the shot options; the variety; the sandy ground," he says.
"The Abaco Club may not be Scotland, but there seemed to be the potential to create a tropical version of links golf there. The site is also very windy, and on many days a target golf course would have been an utterly miserable experience to play."
Many of the landing areas of the tees are quite generous, but the greens are extensively contoured. "On windy days, I felt that it was important to allow players to keep the ball in play," said Mackenzie.
"In a 30 knot left to right wind, a generous landing can look pretty tight. On an island course, it seems right to have a huge amount of variety of pin positions on the greens.
"If you come for two weeks you are playing the same course everyday, but if the pins are changed every other day, then the course changes massively as well as how you play the course. We could easily have made the greens a third of the size and flat, but decided against that."
Although Steel made a handful of site visits, Mackenzie took the design lead and makes his case to purists who would scoff at the idea of a links course being built in the Bahamas.
"The course was designed by genuine links specialists who advise many of the greatest links courses in the world. Although tropical grasses will never replicate their cool-season cousins for playing running shots, it is a course that offers all the options of the great links.
"Playing at Abaco on a warm (30C) day with a stiff breeze will be a links experience quite unlike any other. It is definitely worth the journey."
Will Medlock graduated from UEA with a degree in Film and Television before completing a Masters in Sports Journalism at St Mary's in London. Will has had work published by The Independent and the Rugby Paper.