USPGA Championship 2014: by the numbers
Golf Monthly takes a look at some interesting facts and figures ahead of the 96th USPGA Championship at Valhalla Golf Club in Kentucky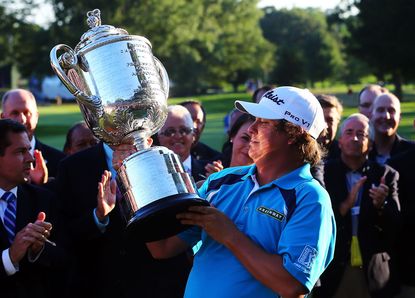 (Image credit: Getty Images)
Golf Monthly takes a look at some interesting facts and figures ahead of the 96th USPGA Championship at Valhalla Golf Club in Kentucky
96 - The 2014 USPGA Championship is the 96th playing of the event. Englishman Jim Barnes won the first event, which took place at Siwanoy Country Club in New York.
3 - This will be the third PGA Championship played at Valhalla (1996, 2000)
15 - The amount of former USPGA winners in the field
20 - The amount of players in the field representing the UK and Ireland
486 - Valhalla Golf Club sits on a 486-acre property just East of Louisville, Kentucky
10,000,000 - The purse for the USPGA Championship is $10 million, the highest purse of any major championship
7,458 - The yardage that Valhalla will play at for the tournament (par 71), which is 291 yards longer than its distance for the 2000 PGA (par 72)
597 - The par 5 7th hole is 597 yards, making it the longest hole on the course
6 - There have been six PGA Championship winners from the UK and Ireland, the last being Rory McIlroy in 2012
15 - The 15 low scorers (and ties) in the USPGA Championship automatically qualify for the following year's tournament
20 - The 20 low scorers in the previous PGA Professional National Championship automatically qualify for the PGA Championship
156 - The total field features a maximum of 156 players
365 - Nicklaus Design, Jack Nicklaus's golf course design company that he owns and runs with his four sons and his son-in-law has designed 365 golf courses around the world. In addition to Valhalla, other notable courses include Harbour Town Golf Links and Muirfield Village Golf Club in Dublin, Ohio.
5 - The amount of players from outside the United States who have won the USPGA Championship within the last ten years–Vijay Singh (2004), Padraig Harrington (2008), YE Yang (2009), Martin Kaymer (2010), Rory McIlroy (2012)
265 - The record for lowest aggregate score recorded in a USPGA Championship, held by David Toms in 2001.
2 - Tiger Woods is the only player to win back-to-back PGA Championships, a feat that he has accomplished twice (1999-2000, 2006-2007)
Mike Smith is an American undergraduate student studying journalism and political science at the University of Wisconsin-Madison. He is spending the summer living in London, studying British life and culture and working for Golf Monthly. He is excited to gain international working experience, as his career goal is to work in sports journalism.