Is Tiger Woods Fit Enough To Win The Open?
There are doubts over the world number five's fitness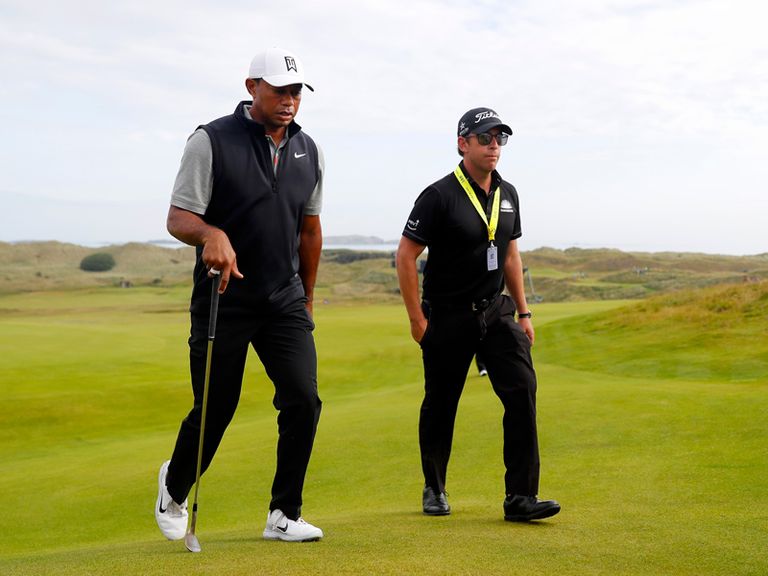 (Image credit: Getty Images)
Ahead of the Open Championship at Royal Portrush there are doubts over the World Number Five's fitness
Is Tiger Woods fit enough to win this week?
The talk at the start of The Open week at Royal Portrush has been that Tiger Woods is struggling for fitness, and certainly the world number five was walking very gingerly in his practice rounds.
In his first press conference of the week, Woods was asked about the state of back and the effect on it of the colder British weather. He said that the 'procedures' he's undergone in recent years and 'being a little older' mean he's unable to move as fast when the temperature drops.
The 15-time major winner also explained that his reduced playing time this year was a response to the 17 events he played in 2018, a schedule he described as 'too much'.
'This year I made a conscious effort to cut back on my schedule,' Woods said, coming into his 10th event in 2019. 'I want to play here as long as I possibly can, and you have to understand that if I play a lot, I won't be out here that long.
'It's about understanding how much I can play, prepping how much I do at home and getting ready. The tricky part is determining how much tournament play I need to get the feel for the shots, and also understanding where my body is.'
Of the new schedule, which sees the major championship season condensed into three and a half months, Woods said he was 'still trying to figure it out and trying to play enough golf to be able to compete and win events'. He added that he was likely to take the 'Steve Stricker approach' going forward, which means we're unlikely to see much more of him before the Fed-Ex Cup playoffs.
While maintaining that there was nothing 'outside the norm' that he's dealing with in terms of his fitness, and that he's 'good to go', Woods did reveal he's struggling to shape the ball in the way he needs to in order to be a factor at Royal Portrush. 'With the weather coming in and and the winds changing, I'm going to have to be able to cut the ball, draw the ball, hit at different heights and move it around.'
There is good news for those with money on Tiger this week, however. His short game is right where he wants it and he pointed out that not being able to generate as much speed and distance this week will be less of a hindrance on a links course.
Expand 4 Reasons Tiger Woods Will Win The Open
4 Reasons Tiger Woods Will Win The Open
We look at several reasons why the American…
Expand Open Championship Golf Betting Tips 2019 – Final Round
Open Championship Golf Betting Tips 2019 – Final Round
Who is going to make you some money…
Expand Tiger Woods Reveals Brooks Koepka Snub
Tiger Woods Reveals Brooks Koepka Snub
The 15-time Major winner hasn't heard back from…
Expand Golf In Ireland Is A Game Without Borders Or Prejudice
Golf In Ireland Is A Game Without Borders Or Prejudice
Born in Northern Ireland, Bill Elliott, our editor…
'Look what Tom [Watson] did at Turnberry, and Greg [Norman] did at Birkdale,' he said. Watson was 59 when he came so close in 2009, and Norman was 53 the year before. Tiger Woods, by contrast, is 43.
'The golf course is fast enough, even if you don't have the speed to carry the ball [as far], you can still run the ball quite a bit out there,' Woods continued. 'You have to navigate around the golf course.'
And that, of course, is an art that the Masters champion, who has three Open Championship titles to his name, has mastered perhaps better than anyone in the field. 'Tiger is a master technician at figuring out how to play a golf course,' said Darren Clarke. 'Look at the Opens he won at Hoylake and St Andrews – he went in one bunker in two championships.'
The 2011 Open champion and Portrush local also commented that 'the whole world would love to see Rory and an on-form Tiger in that last two-ball on Sunday afternoon. That would be off the charts.'