Play Your Best: The final four are...
Four GM readers beat off intense competition to gain a coveted place in the Play Your Best Challenge 2012. With the help of PING and GM they'll be aiming to break through their personal scoring barriers this season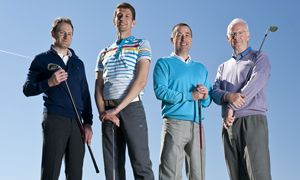 By Mike Harris published
In the April issue of Golf Monthly we invited readers to apply to take part in a unique golfing concept, the Play Your Best Challenge 2012 in association with PING, which would offer four golfers the opportunity to take their game to the next level. Interest was nothing short of phenomenal. We received over 2,600 emails requesting an application form and nearly 800 completed nominations by the March 22 deadline.
The judging panel was looking to find golfers for whom breaking through to the next level would be a serious, but not impossible task. To that end those who were already in touching distance of their goal - golfers who for example had shot 81 or 82, but not quite broken into the 70s, were put to one side as were the optimists who despite a previous best of 98 were hoping to break 80! The panel also wanted to focus on those golfers who were not already taking regular lessons with a PGA pro or had felt the benefit of a recent custom-fitting for new equipment.
But even though applying the above criteria saw a lot of applications put into the 'no' pile, there were still hundreds of suitable candidates. In the end it was the personal statements that were crucial. Those who showed a real desire to move out of their comfort zones and dedicate themselves to the process threw the spotlight onto a shortlist of around six golfers per category. After a lengthy final judging session, Golf Monthly editor, Michael Harris, contacted the quartet to give them the good news that they'd been selected.
THE JOURNEY BEGINS
The six-month Play Your Best Challenge journey began at the end of March at PING's National custom-fitting HQ in Gainsborough. The day started with a full custom-fitting session taking the four golfers right through the bag from driver to putter. PING's technicians used their considerable expertise combined with the latest technology, including the sophisticated nFlight system that determines the optimum combinations and specification of woods, irons and wedges and the iPING app, which matches the golfer with a putter that fits their stroke type, to get the perfect gear line-up.
During the morning session Golf Monthly Top 25 coach Steve Cooper ran the rule over the golfers noting down strengths and weaknesses in their technique, offering advice and insight, which would help them better understand their game and prepare them for meeting up with the Top 25 coaches they will work with during the season.
After a quick break for lunch it was time for the four golfers to undertake one-on-one sessions with mind coach Gary Leboff and fitness and nutrition expert Annette Stroud. Personal guidance and advice from such specialist experts is normally the preserve of professionals and elite amateurs and the sessions were a real eye-opener for the four golfers. Gary Leboff's mind coaching sessions gave the golfers techniques to help cope with not only the difficult situations they struggled with on the course, but also an overview of how to approach the wider challenge of the major improvements they'd need to make in order to break through their scoring barriers.
In the fitness and nutrition sessions, Annette Stroud focused on assessing flexibility and strength and then gave the golfers specific activities to work into their schedules. For the nutrition element the golfers had been asked to supply an honest food diary that Annette went through in detail, identifying some foods to avoid or those that could be used to help improve on-course performance. The day ended with a tour around the factory where each golfer's clubs had just been built - finishing with a presentation of the clubs, all with matching team bags.
Over the next pages we profile the four golfers and you can follow their progress towards their goals in the pages of Golf Monthly over the coming months, on a special Play Your Best Challenge microsite golf-monthly.co.uk/pyb2012, a Facebook page facebook.com/PlayYourBestChallenge and via our other social media channels. The four golfers also have their own Twitter accounts to follow.
YOUR CHANCE TO SHINE
Even though our four golfers will be centre stage this year, PING and Golf Monthly want to encourage every golfer to set themselves a golfing goal for the 2012 season and aim to achieve it. It could be participating in parallel with the Play Your Best Challenge by aiming to break one of the scoring barriers our four golfers are focused on (100/90/80/70), winning a competition at your club, recording a new personal best or cutting your handicap by a certain number of shots.
To help inspire you, four of PING's top Tour pros have set themselves a Play Your Best Challenge for 2012 - View the video below to discover what Lee Westwood, Bubba Watson, Hunter Mahan and Louis Oosthuizen have their sights set on.
Once you have decided on your goal, you can post it by going to either the pledge page on the Play Your Best Challenge microsite, or the Facebook page.
As an incentive to share your goals, Golf Monthly and PING will be rewarding a selection of those who make a pledge and then achieve their aim with some fantastic prizes and also the chance to join the four golfers at the Play Your Best Challenge Day at Gainsborough GC on October 1.
Mike has been a journalist all his working life, starting out as a football writer in the 1990s before moving into men's and women's lifestyle magazines and joining Golf Monthly in 2003.
In 2006 he became the eighth editor in Golf Monthly's 100-plus year history. His two main passions in golf are courses, having played over 400 courses worldwide, and shoes; he owns over 40 pairs.
Mike's handicap index hovers at around 10 and he is a member of four clubs: Hartley Wintney, Royal Liverpool, Royal North Devon and the Royal & Ancient Golf Club of St Andrews.