Paper Scorecards Could Be Obsolete By 2030 As Technology Takes Over
Golf technology expert says that the end of the traditional paper scorecard could be just a few years away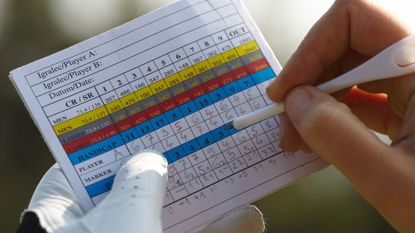 (Image credit: Getty Images)
Scrambling around in your golf back for a pencil to mark your card could soon be a thing of the past as one golf technology expert says paper scorecards could be obsolete by the year 2030.
Mike Zisman, founder of Golf Genius, says that the way technology is so widely used on the golf course now, everyone will be inputting their scores into their mobile phones by the end of the decade.
Zisman's company developed the GHIN app that runs the USGA handicapping system in the USA, with another customer, the American Junior Golf Association, not using scorecards at all even now.
It means that governing bodies, competitions and clubs are moving away from the traditional old scorecard, meaning that they could be an afterthought even as soon as in just seven years.
"But by 2030? Yes, absolutely," Zisman said when asked if paper scorecards could be a thing of the past. "There are some organisations even today that don't use scorecards."
He's also quoted on the Golf Club Managers Association (GCMA) website explaining why the younger generation of golfers who've grown up with technology will see it as a logical step to chuck away the pencil and scorecard and get out their smart phones.
"I belong to Merion, which is a great golf club," added Zisman. "We're not allowed cell phones on the course. There are probably two dozen clubs in the US that are still like that.
"It's the old holdouts that don't allow phones on the course and it should be a respite away from it.
"Therefore, you're using paper scorecards but that's going to change. The USGA with its GHIN app, which we built, allows you to enter scores on a hole-by-hole basis with stats so, clearly, the USGA are saying to people, 'look, this is perfectly OK'.
"There is just a dramatic difference between under 40 years of age and over 40-year-olds.
"With the under 40s it's, 'what do you mean I'm not going to use my phone? I use my phone for everything'."
So enjoy marking your scorecard while you can, as they may soon be consigned to the golfing history books.
Paul Higham is a sports journalist with over 20 years of experience in covering most major sporting events for both Sky Sports and BBC Sport. He is currently freelance and covers the golf majors on the BBC Sport website. Highlights over the years include covering that epic Monday finish in the Ryder Cup at Celtic Manor and watching Rory McIlroy produce one of the most dominant Major wins at the 2011 US Open at Congressional. He also writes betting previews and still feels strangely proud of backing Danny Willett when he won the Masters in 2016 - Willett also praised his putting stroke during a media event before the Open at Hoylake. Favourite interviews he's conducted have been with McIlroy, Paul McGinley, Thomas Bjorn, Rickie Fowler and the enigma that is Victor Dubuisson. A big fan of watching any golf from any tour, sadly he spends more time writing about golf than playing these days with two young children, and as a big fair weather golfer claims playing in shorts is worth at least five shots. Being from Liverpool he loves the likes of Hoylake, Birkdale and the stretch of tracks along England's Golf Coast, but would say his favourite courses played are Kingsbarns and Portrush.