Remembering the Suntory World Match Play
We look back on one of golf's great events – the Suntory World Match Play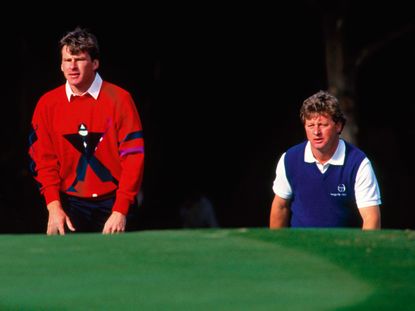 Golf Monthly Newsletter
Golf tips and expert instruction, golf club reviews and the latest golf equipment.
Thank you for signing up to . You will receive a verification email shortly.
There was a problem. Please refresh the page and try again.
During the 1980s, the Suntory World Match Play was the event all the big names wanted to play. But what made this Wentworth showpiece so special?
There was something of a Cinderella story about Bill Rogers' 1979 World Match Play win. Unknown with only one PGA Tour victory to his name, Rogers would arrive at Wentworth's West Course as a replacement for Tom Watson, the world's best player who had declined his invitation to an event reserved for the season's golfing conquerors.
From the minute he arrived, Rogers – a wiry, gloveless-playing Texan – looked the odd man out against the respective Major victors and leading money winners. But there was to be no inferiority complex as he stampeded the illustrious field on his way to victory.
The year 1979 also saw the start of an 11-year sponsorship deal with Japanese distillery giants, Suntory. It would match a time where the Wentworth showpiece stirred up some of the finest battles among the game's sparring heavyweights.
European domination was cemented with eight wins split between Seve Ballesteros (4), Ian Woosnam (2), Sandy Lyle and Nick Faldo. Only Greg Norman threatened the stronghold, himself the victor on three occasions in 1980, '83 and '86.
Despite the Match Play still living on to this day, those combative days of old seem all but a distant memory when many of the game's great characters roamed the famous West Course fairways. "Everybody loved it," said Ian Woosnam. "I always wanted to be there."
ORDER OF THE DAY
Founded by legendary sports agent Mark McCormack in 1964, the World Match Play served as an end-of-season celebration as the world's best players descended on Wentworth. Despite offering no world ranking points and not being recognised by either the PGA or European Tour, the warmth of the Wentworth crowds and falling autumn leaves proved a huge pull and the class of the fields served to fulfil the belief that outside the four Majors, this was the next best thing.
Close-knit with 12 players and 36-hole matches, it was guaranteed entertainment. There was also the consensus that England's capital golfing venue should host such a prestige event, with the Open Championship flirting mostly between the Lancashire and Scottish coasts.
Sports Illustrated: "Mark McCormack recognised that both London and golf could use a premier matchplay event. He came to the conclusion after the USPGA changed from match to medal for the benefit of television. It took a while, but he eventually got it going."
PLAY IT AGAIN
Arnold Palmer won the inaugural event, but it was Gary Player who became the dominant force in what was named the Piccadilly World Match Play Championship from 1964-1976. The South African won five times during a nine-year period. Only once did a European contest a final in the event's first 15 years (Neil Coles was beaten 2&1 by Palmer in 1964).
Colgate took over sponsorship rights in 1977, and a year later Japan's Isao Aoki proved one of the most popular winners when he beat New Zealander Simon Owen 3&2. Then Suntory came in, and a European rebellion was brewing. Order of Merit winner Sandy Lyle was edged out in the 1980 final by an up-and-coming Greg Norman, before Seve claimed back-to-back honours in '81 and '82.
Sports Illustrated: "Enormous crowds always turned out, and the press coverage was second only to the British Open among European tournaments."
LYLE VERSUS FALDO
Of the many highlights from 1982, the first-round duel between Faldo and Lyle is perhaps the most talked about. Down by six holes at the halfway stage of their 36-hole clash, Lyle fought back to all-square by the 30th, before moving two ahead with three to play. Faldo won the 34th, but the Scot took the match with a birdie at the 35th.
Sandy Lyle: "I couldn't see a way back. But it turned out he was vulnerable. It just shows that even a player like Faldo can lose their momentum and get into a kamikaze dive."
SEVE & BERNHARD
Meanwhile, it was becoming the perfect hunting ground for Seve. One-on-one; playing to the crowds; aggressive play would be rewarded. Facing Bernhard Langer in the 1984 final, there had been rumours of tension between the two prior to the match, which escalated from suggestions that Ballesteros was "unfriendly" and "intimidating". Disputes aside, Ballesteros ran out the victor 2&1.
Golf Monthly: "Langer's comments that Ballesteros was unfriendly and intimidating – later translated as competitive and untalkative – proved a talking point and probably added to an edge that otherwise wouldn't have been there."
TAKE TWO...
By the time their second meeting had arrived in the 1985 final, Langer was not only recognised by the official World Rankings as the best player on the planet, but more importantly by Ballesteros.
But the German was well below his best as he was left grounded by the Spaniard, losing by a punishing score of 6&5 – the widest margin of victory in the event's history at the time. Ballesteros would later claim he had "never seen Langer play so poorly", adding: "When I won, I turned to him and said 'Okay Bernhard, we don't have to play anymore'."
NORMAN'S MARCH…
Greg Norman was already three from three for visits to the UK in 1986. The World No.1 had won emphatically at Turnberry in the Open Championship, and had added victories in the European Open and Dunhill Cup.
Taking on Lyle for a second time in a Match Play final, the Australian eased out the Scot 2&1. But it was the angry reaction of Norman towards the galleries that caused the biggest commotion, suggesting the partisan crowd had reacted unfairly in support of the British player. Norman, to his word, vowed never to return…
Greg Norman: "When the match was over I said to my wife that I didn't feel I'd won a tournament but a war. It really took me by surprise and if that's the way it is then I just won't come back."
HURRICANE WOOSIE
Ian Woosnam became the first Brit to win the Match Play in 1987 when he beat close friend Lyle (his fourth defeat in four finals). The tournament was extended through to the Monday after the Great Storm had swept across the southeast of England.
But Woosie's own game was just as thunderous, sweeping aside Faldo and Ballesteros before turning his attentions to Lyle, where he would win on the 36th hole with a six-footer.
Ian Woosnam: "I wasn't even nervous. I knew I could hole it because I'd holed putts of much the same line and length against Nick Faldo and Seve. I knew I could do it because I had done it before."
IT'S ALL FOR CHARITY
Perennial bridesmaid Lyle broke his duck at the fifth attempt in 1988 against Faldo, and a year later the Englishman took the spoils in one of the lowest scoring matches at Wentworth with victory over Woosnam.
He was seven-under on his inward nine, shooting two eagles and three birdies over the last seven holes. Receiving his £100,000 prize – the first six-figure cheque in European golf – he donated his entire winnings to a children's charity. "I decided I would donate half," said Faldo. "But I'd never been one to do things by halves, so I gave it all away."
Alex began his journalism career in regional newspapers in 2001 and moved to the Press Association four years later. He spent three years working at Dennis Publishing before first joining Golf Monthly, where he was on the staff from 2008 to 2015 as the brand's managing editor, overseeing the day-to-day running of our award-winning magazine while also contributing across various digital platforms. A specialist in news and feature content, he has interviewed many of the world's top golfers and returns to Golf Monthly after a three-year stint working on the Daily Telegraph's sports desk. His current role is diverse as he undertakes a number of duties, from managing creative solutions campaigns in both digital and print to writing long-form features for the magazine. Alex has enjoyed a life-long passion for golf and currently plays to a handicap of 13 at Tylney Park Golf Club in Hampshire.