Oliver Wilson: Psychology of 'The Cut'
Oliver Wilson tells us you must look at the bigger picture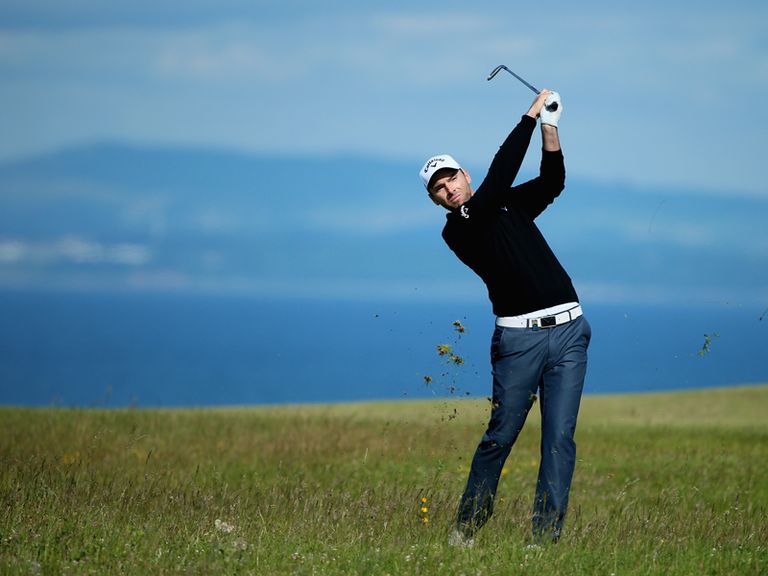 (Image credit: Getty Images)
Golf Monthly Newsletter
Golf tips and expert instruction, golf club reviews and the latest golf equipment.
Thank you for signing up to Golf Monthly. You will receive a verification email shortly.
There was a problem. Please refresh the page and try again.
People talk about the 36-hole cut a lot, and obviously it is important for a tour pro. But if you're playing well, it doesn't really exist. Oliver Wilson explains more...
The 36-hole cut is an interesting concept, because for me, it's not real. It's there, and obviously is real, but in your mind you just don't want to acknowledge it. I've always believed that you become what you think – that you achieve what you've set out in your mind or dreamt of. For me, the cut is simply a shorter version of your career and what you're trying to achieve there.
What I mean by this is that we all have dreams and goals that drive us from day to day, which are embedded in our subconscious. But your subconscious is there pushing you on to achieve those things. A lot of golfers might think, "Right, let's just make the cut," but as soon as you do that, I think you're limiting yourself. You've got to look at the bigger picture, which is about having little goals and just keeping on trying to achieve them.
Instead of thinking about making the cut, you should really reframe it in your mind, so that your goal is perhaps making the top 45 rather than merely making the cut. It's about shaping your goals so that you're still achieving things without setting them too high.
Related: Oliver Wilson Swing Sequence
When you're playing well, the cut doesn't really exist. You have such confidence in your game that you just play. Even if you're struggling a bit, you think, "I'll pull this off. I'll make some birdies when I need to," and you keep grinding and grinding and you do. The cut isn't really in your thoughts. It might dictate course management a bit over the first two days when you may be a little more cautious, but it won't affect you too much. When you're not playing well, it's very different and making the cut becomes a harder task. That's when you've really got to set those goals of trying to make the top 50 or top 45.
If simply making the cut is your goal, yes, you're happy if you do, but I've found it can then take the intensity out of the weekend. It can be quite hard to push on, and that's when framing your goals for the week is so important because it gives you room to push on over the weekend. Some might dismiss that, but many will agree. There's a subconscious aspect to it that I definitely know has been the case for me during my career.
Making the cut is important, but you need that same intensity during the whole week. Quite often you'll grind really hard over every shot to make the cut, which then gives you a really good mindset for when you're playing well and in contention. For a lot of guys, it just 'happens' when they're playing well, but when they're struggling, they don't grind as hard, and it's those odd shots here or there that make a massive difference at the end of the year.
The best players in the world grind so well – they don't really accept bogeys or doubles. If you've short-sided yourself and left yourself an impossible up and down, a lot of players will think, "Let's just get it on the green, make bogey and move on." The best players get into a mindset where they just never accept it. Every shot can be holed, so they think, "Let's get it to a spot where I then have the best chance of making the putt." That's how you grind. The best players do that, and when they're not playing well that enables them to still shoot a level-par kind of round.
But it's hard to talk about the cut in isolation as I believe it links in with so much more – course management, good habits and, most importantly, fighting over every shot. That's what you often do when you're struggling and trying to make the cut, but it then builds good habits for when you're in contention too.
One of my best efforts when it all came together on that front was at Gleneagles in 2008 when I was on the brink of the Ryder Cup team. If I made the cut and had a half-decent week I knew I would probably be able to fend off my closest challengers, Martin Kaymer and Nick Dougherty. But I struggled on Thursday, then had a rubbish front nine on Friday.
I remember standing on the 11th tee having just made bogey, and saying to myself, "I've now got to pick up quite a few shots!" So I made a plan, and fortunately managed to pull it off. I chipped in to eagle the 12th and birdied both par 5s at the end to make it on the mark, then went on to shoot 68, 69 and finish 10th. That week, the cut was a much bigger mark in my mind than usual, so there was a lot of psychology going on. But to make a plan and then pull it off gave me an incredible amount of confidence.
But the psychology of the cut fascinates me. Is it real? When you're playing well, not really – it's just an invisible mark that doesn't really mean anything.
- 2008 Ryder Cupper, Oliver Wilson, is now into his 12th year on the European Tour, during which time he has enjoyed the support of long-term sponsors, Callaway Golf, Hugo Boss and Orion Group
David joined Golf Monthly in 2015 as a content editor for the magazine and regularly contributes to the website. He has worked in magazine publishing and editing since 2003. He is a keen golfer and up until recently was a member of Blackmoor Golf Club in Hampshire. He has covered various big events and tournaments for GM, the highlight of which was witnessing Tiger Woods win his 15th Major at Augusta in 2019. Email: david.taylor@futurenet.com