Golf In Ireland: Strength In Depth
Irish golf suffered badly after the 2008 financial collapse. But, as Kevin Markham discovers, its courses are coming out of the recession sharper than ever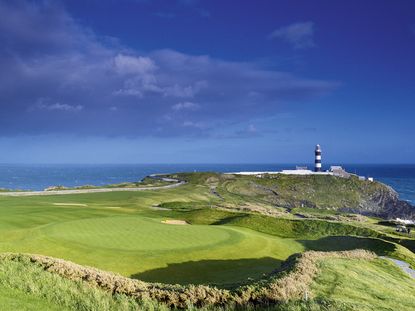 Get the Golf Monthly Newsletter
Thank you for signing up to Golf Monthly. You will receive a verification email shortly.
There was a problem. Please refresh the page and try again.
Irish golf suffered badly after the 2008 financial collapse. But, as Kevin Markham discovers, its courses are coming out of the recession sharper than ever
There are only a handful of countries in the world that summon up the true mystery and magic of golf. Ireland is up there with the best of them, with Royal County Down, Waterville, Ballybunion, Lahinch and Royal Portrush frequently discussed in reverential tones. Given their history and aura that is no great surprise, but Ireland has more than 400 courses to choose from… and there is quality in depth.
It was the British Army that brought golf to Ireland in the mid-1800s, and, given the army's reach across the country, courses quickly spread far and wide. Leap forward more than 100 years and it is difficult to pinpoint when the major boom in golf construction began. But, between 1990 and 2008, the number of courses in Ireland increased by 50 per cent. That's 120 courses. Put another way, that is a new course every two months for almost 20 years. These include internationally recognised courses such as Mount Juliet, Druids Glen, Doonbeg and Lough Erne, as well as the more bread-and-butter layouts.
Following the financial collapse of 2008, Irish golf found itself in deep rough and it has been hacking its way out ever since. The number of people playing golf fell and courses closed, but there were still positive stories showing that not all was lost. Clubs added new nines, built new holes, constructed new greens and re-designed, re-routed and revised what they had to offer.
There may be no new courses on the horizon, but golf has turned a corner and there is optimism on Ireland's fairways once again. Conditioning is back to its best, yet green fees remain low (if less so on the world-renowned courses). Now might just be the perfect time to visit, so here are 12 courses that cover the spectrum of parkland, seaside and links, both young and old.
FAVOURITES The Island
Up until 1973, The Island could only be accessed by boat across the Malahide estuary… hence the name. It sits on a small spit of turbulent dunes in north Dublin, looking out to Ireland's Eye. Founded in 1890, the course has been evolving into one of Ireland's greatest links. Its strength comes from the startling variety of holes and its sense of adventure. No two holes are similar, something made abundantly clear on the acclaimed opening stretch of eight par 4s. Repetitive? Not one bit. The combination of long and short holes, blind shots, big dunes, ridges, hollows, dynamic green complexes and the unexpected ensures that you will be absorbed right from the opening tee shot.
The Island's back nine is electric, with two of the course's original holes also two of its best. At 215 yards, the par-3 13th presents a green above a deep hollow, high above water to the right. There is little resembling a bail-out area on one of the toughest short holes in the country. The next tee box was once the foundation for the original clubhouse, and today's short par-4 14th boasts the narrowest fairway in Ireland (maybe anywhere) at 14 yards wide, reducing to three yards as it approaches the green. The bird sanctuary to the right is out of bounds.
Royal County Down
There are few places in golf as inspiring as the 4th tee at Royal County Down. Facing a world-class, 200-yard par 3, you need to take a moment to appreciate exactly where you are. Three holes above Dundrum Bay have already zipped by and now you're facing back towards the clubhouse, the tower of the Slieve Donard Hotel and the Mourne Mountains rising above it all. Take a breath… soak it up… and swing true.
Holes here are revered and feared in equal measure. Royal County Down is renowned for its terrifying blind shots, its bearded bunkers and the blazing yellow, gorse-strewn dunes. This inspiring design is thanks to the influences of Old Tom Morris, Harry Vardon and Harry Colt. The front nine is closer to the bay, with the forbidding 9th bringing you back to the clubhouse. It must go down as one of the blindest shots in golf – although the 11th is not far behind.
Comparable to playing St Andrews or Royal Dornoch, this is a truly unforgettable occasion. While there are those (Jack Nicklaus among them) who do not like the blind shots, this is a timeless course where you will appreciate how golf so beautifully embraces its past and its present.
Royal County Down requires accuracy off the tee or par will vanish – the long rough and gorse will see to that.
Carne
The revered Irish golf course designer, Eddie Hackett, was in his 80s when he designed Carne, in Co. Mayo. It was to be his final design and his ultimate legacy. Hackett's greatest strength was embracing nature and changing as little as possible, and he brought that all to bear at this beautiful beast of a links. Dunes rise almost 500 feet above sea level, piercing the skyline like no other course in the world. Tees sit up high, promising towering shots, greens sit wedged into dunes, creating stunning targets, and fairways move all over the place in between.
Carne promises fairways of all shapes and sizes: the 3rd is a sharp, fast rollercoaster; the 17th drops into a chasm; and holes 9, 11, 12, 15 and 18 present high greens and fairways that can toss your ball back 20 yards. It is an idiosyncratic landscape of such unpredictability that it almost confounds belief, yet all three nines manage to start and end at the clubhouse. Besides, once you start playing here, there is an irresistible pull that draws you ever onward into deeper and deeper dunes, with views across the Atlantic and Blacksod Bay a constant reminder of the idyllic setting. The third nine was designed by the Scot, Ally McIntosh, and opened in 2013. Holes are as big and dramatic as what has come before – in fact, probably more so.
Druids Glen
Ireland has some 300 parkland courses, awash with trees, lakes and rivers. Many roll through old estates, but there are only a couple that come close to Druids Glen in terms of variety, colour and excitement. Never mind the druid's altar watching over the 12th green, the suspension bridge to reach the 9th fairway, the old estate walls and the 18th-century Woodstock House (now the clubhouse), Druids Glen has both the best set of par 3s and the most exhilarating parkland back nine on the island. This is estate parkland golf on steroids.
The course opened in 1995 and staged the Irish Open between 1996 and 1999. Sergio Garcia won his first professional event here at the age of 19.
It is a challenging course (the 13th is the toughest hole in Ireland, and six of the back nine are laced with water) but golfers of all abilities will love playing here. Several tee boxes sit up high, promising big drives, and the changes in elevation (some quite sharp) are well used throughout the course.
Druids Glen is often called the 'Augusta of Ireland', and the 13th gives credence to that claim. It is a par 4 of 450 yards from the forward tees. From a dramatic, high tee the tight fairway disappears around a cliff face and beyond a stream. Your approach then has to carry water with no forgiveness to the left or right. The elegant Druids Glen Resort sits next door.
Macreddin
Macreddin is so much more deserving than its 'hidden gem' tag. It boasts the quality and the 'wow' factor of any modern parkland… but this Paul McGinley course arrived at just the wrong time in the Celtic Tiger lifecycle. It opened in 2008, and, like Killeen Castle and Bunclody golf clubs, it never got to benefit from the boom. That does, however, have its upsides as visitors will enjoy pristine conditioning yet quiet fairways.
This is McGinley's only design in the British Isles, but it shows he has many more talents than captaining a winning Ryder Cup team. Macreddin is a beautifully fluid course, rising and falling across the two slopes of the Aughrim valley. It is a picture-perfect setting with hills all around, and the course embraces that rolling rhythm. Fairways ebb and flow between shoulders of gorse and through the tall pines, green complexes are immaculately shaped and golfers are faced with countless breathtaking shots.
Of all the good holes here, a few are exceptional: the par-3 4th drops from an enormous height to a heart-shaped green; the par-4 6th is short and tight, its green buried in the trees beneath the hillside; and the 12th is another of those Stroke Index 1 holes that is as beautiful as it is difficult. It crosses the same river twice and doglegs sharply right, around the forest. There are a couple of long walks so visitors may want to take a buggy.
Old Head
This is as exclusive and luxurious a golf experience as you will find in Ireland (main picture). A diamond-shaped peninsula hangs off the coastline of Co. Cork, playing host to a cliff-top course of infinite beauty. Nine of the holes sit perched above 300-foot cliffs, streaking back and forth to the lighthouse at the tip of the peninsula.
When the course was built in the 1990s no expense was spared. The result is a pristine layout where fairways flow like velvet, pampas grasses whisper in the winds and golfers with vertigo may not get past the 2nd tee. Tee boxes, fairways and greens cling to the cliffs and the 2nd has it all, the hole doglegging around the rockface to a green with nothing behind but sky and ocean. The 12th and 18th are the two truly terrifying holes, where cliffs and chasms have to be crossed to reach fairways. It's adrenaline-filled stuff.
The holes in the centre of the course may lose the drama but they lose none of their elegance, and while some golfers suggest it is too 'American', the majority of members are, indeed, American. And with that American feel comes this simple fact: other than hitting your ball into the ocean, you will struggle to lose a ball. Green fees are steep, but this is one unforgettable golf experience. The course is open from April to October.
HIDDEN GEMS
Scrabo
Just as Carne can be called a wild links, so Scrabo can be called a wild parkland. There is a sense of the untamed about this 100-year-old course which races up and down Scrabo Hill, outside Newtownards. Fairways are naturally bumpy – chaotically so, at times – greens are small and golf is of the exhilarating variety… but please avoid looking for your ball in the razor-sharp gorse. It hurts.
Don't expect manicured fairways or painstakingly designed golf holes: that's not what Scrabo is about. As a members' club, blood, sweat and tears went into creating the course and providing natural, brilliant and fun golf. Yes, it may be short by today's standards, but you have to avoid that gorse and be very accurate with your approach play to score well.
Not surprisingly, the wind can wreak havoc up here, but you'll also have many sensational tee shots as well as views along Strangford Lough and across to Scotland. The new clubhouse makes the most of those views, too. And then there's Scrabo Tower, standing tall above the 1st green and visible for much of the round.
Anyone considering golf around Belfast (Malone, Belvoir Park) or Royal County Down should add Scrabo to the itinerary.
Rathcore
Rathcore sits in a peaceful part of Co. Meath, 25 miles west of Dublin. This relatively new course (2004) has two key strengths: its proximity to the parkland giants of Carton House and the K Club, as well as to the capital, means it is a perfect inclusion on any golfing itinerary; and, more importantly, the golf here is intoxicating.
These days, with so many new courses measuring over 7,000 yards, it is refreshing to play Rathcore's modest 6,555 yards (back tees). It promises a friendly and manageable round where golfers of all abilities will fancy their chances, especially on the four par 4s under 330 yards. But remember, brains beat brawn, so if you like playing intelligent golf and assessing holes carefully from the tee, this par 72 will tick those boxes.
The course fits neatly into 130 rolling acres, its natural ponds and springs, gorse-drenched hillocks, two ring-forts and an ever-moving landscape creating such a pretty setting that every hole bursts with character.
Two of the par 3s are among the most charming in the country, but it is the sum of the parts that works so well at Rathcore.
Galway Bay
Galway Bay Golf Resort lies on the opposite side of the bay to Galway City, drifting down gentle slopes to the water's edge. It would be easy to think of Galway Bay as a links, such is the fluid rhythm of the undulating landscape, the lack of trees and the wind factor, but it is a seaside course which has been immaculately shaped to embrace links traits.
Christy O'Connor Junior designed this big course to offer great driving opportunities, time and again. The generous fairways always look inviting as they slink along between gently embracing shoulders, but the muscular, heavily bunkered green complexes make even more inviting targets. Hitting into them is always a pleasure.
The 'American' feel may not be to everyone's taste, but it is thrilling golf nonetheless, with two loops of nine taking you out to the sea and back to the clubhouse at the top of the course. If you want to know the prevailing wind, just look at the small, wind-bent trees around the pond as you walk to the 1st tee.
Galway Bay offers an alternative golf experience to Lahinch and Doonbeg, 90 minutes to the south.
Portsalon
The setting for this links course in Co. Donegal is glorious. Ballymastocker Strand, a Blue Flag beach, races alongside the seven sensational opening holes, while Knockalla Mountain and Lough Swilly are constantly in view. This is as peaceful an Irish setting as you will find. It is also one of the richest areas in terms of links golf: nearby Ballyliffin, Rosapenna and North West offer five 18-hole courses between them, so golfers are spoiled for choice.
Portsalon is a founding member of the GUI, and 2016 is the club's 125th anniversary. It is a links of beauty and quality, the dunes channelling holes through valleys to natural green sites with all the curves that nature presented. The same is true of the fairways, which look so inviting from raised tee boxes. The course boasts two double greens (there are few such greens in Ireland) and a world-class hole in the par-4 2nd. This is as daunting as it is inspiring, a long dogleg cutting sharply left around the beach and a river. The tee box sits at the highest point of the dunes as you drive down and over the beach. You'll want to reload no matter where your first ball goes.
The back nine is inland and the holes become even more shapely, as well as showing off more of the views. The huge hump on the 18th may be the resting place for hundreds of sailors drowned on the HMS Saldanha in 1811.
Birr
Birr's brilliance comes from the eskers which flow over this Co. Offaly landscape. What are eskers, you might ask? They are landforms of gravel and sediment which were deposited by the meltwaters of retreating glaciers. In other words, they are 100 per cent natural and they create a hypnotic rhythm. With ancient woodland wandering the perimeter, you couldn't ask for better golfing terrain.
Birr Golf Club has called this home for more than 100 years, and the most recent chapter in its evolution came in 2007/08 when two new holes were added, allowing a tight course considerably more breathing space. The new holes have not only provided room, but also introduced water (two ponds) for the first time.
The par 3s are special, and the back-to-back pairing on holes 14 and 15 adds a unique touch, with both holes sliding beside old stone walls and between trees. Holes 10 to 12 are special too, lining the boundary of the course and using the trees and eskers to full advantage.
Birr may only be a par 70 but it doesn't lack in length, and, with its smallish greens, you will face quite a battle off the tee and on the approach. This is one of Ireland's forgotten parkland gems, packed with visual appeal and entertainment, right down to the buckling, blind drive on the 18th.
Fermoy
Fermoy Golf Club sits high up in the hills above the small Co. Cork town of the same name. Views stretch across the countryside as you play a course that shows how special Irish 'country' golf can be.
You won't get the big plush experience of nearby Fota Island because this is down-to-earth thrills and spills, where the landscape gives the course sensational curves and where the natural, effortless design adds to its appeal.
The terrain twists and buckles, with holes divided by swathes of heather and attractive pine trees which give a brooding atmosphere. The changes in elevation promise some glorious shots to falling and rising greens.
The 1st hole is a perfect 340-yard introduction, where tee and green sit on the same level but the fairway dips in between. You'll really want to rip into your drive. That happens a lot, thanks to smart tee box and green settings. The biggest elevation shifts come on the back nine, where a rolling chasm slides across a number of holes, promising dramatic and challenging shots.
A par 70 of just under 6,100 yards from the middle tees, Fermoy may not be a destination in itself, but you'd be missing some fun if you planned a trip to the region and passed it by. As at Birr, this is astoundingly good value.
Photography: Kevin Markham
Get the Golf Monthly Newsletter
Tips on how to play better, latest equipment reviews, interviews with the biggest names and more.
David joined Golf Monthly in 2015 as a content editor for the magazine and regularly contributes to the website. He has worked in magazine publishing and editing since 2003. He is a keen golfer and up until recently was a member of Blackmoor Golf Club in Hampshire. He has covered various big events and tournaments for GM, the highlight of which was witnessing Tiger Woods win his 15th Major at Augusta in 2019. Email: david.taylor@futurenet.com