5 young guns who can challenge Rory McIlroy
With 2015 proving just as fruitful as 2014, we're wondering, who can challenge Rory McIlroy?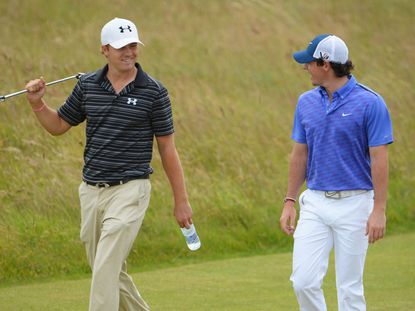 (Image credit: Getty)
With the 2015 season so far proving just as fruitful as 2014, we're all beginning to wonder, who can challenge Rory McIlroy in the future?
With the 2015 season well underway and our Northern Irish world number one seemingly picking up where he left off in 2014, the question we're all asking is, who can challenge Rory McIlroy?
Golf seems to be drifting away from the dominant era of Tiger Woods with every win that Rory McIlroy chalks up, especially inthe majors. So when we arrive in the 'Rory era', a time that may be just around the corner at Augusta, who will realistically be next to upset the applecart? Who can challenge Rory Mcilroy?
Here's five youngsters we think could be up to the task:
Jordan Spieth
This young man is one of few who can challenge Rory McIlroy. Ninth in the official world rankings at the age of just 21, Spieth made 24 cuts out of the 27 events he played in 2014, accumulating more than $4million in prize money and racking up two 2nd place finishes, one of which being The Masters.
For such a young golfer his name seems to have been around for a while now, and this could well be the year where he picks up a few wins. He has already won once this season, back in December where in Australia he blew away the field and finished 26-under-par.
He isn't the longest off the tee by any stretch, but his average putts per round of 28.13 certainly counters the extra length that a lot of players have on him, especially Rory McIlroy.
Rickie Fowler
Last year it seemed that Rickie Fowler finally turned into a man and is not the long haired American rookie anymore.
Four top-5 finishes at all the majors makes him a name we couldn't leave off this list. Fowler played the majors in 32-under-par last year, including the Open Championship and PGA Championship, where he shot eight consecutive rounds in the 60's.
Fowler has also started this season well with two top-10 finishes. The 26-year old from California will know that he'll have to play his best golf if he wants to win his first major, and if he can replicate his form from last year, there's no reason it couldn't be him who can challenge Rory McIlroy for years to come.
Hideki Matsuyama
The 22-year-old from Japan is another who can challenge Rory McIlroy. He has been knocking on the door for a while now, and has started the season very well with eight cuts made out of eight events and four top-10 finishes, including his recent 2nd place finish at the Phoenix Open.
Last season he won the Memorial tournament and finished the year with an impressive 70.4 stroke average.
He also made three out of four cuts in the majors and will be looking to improve on his finishes this season, especially at Augusta where he opened with an 80.
He already has a 69.4 average for the 2015 season and with events coming thick and fast we can see a few wins on the horizon for this young Japanese star.
Harris English
We don't know exactly what it is about this man, but Harris English always seems to excite us when we watch him play. He has made a very good start to this season, lying 32nd in the FedExCup rankings, finishing 3rd at the Sony Open after four consecutive rounds in the 60's.
For English 2014 was a good year, making 20 out of 28 cuts, seven top-10 finishes and a win. It was the majors that let him down though, missing three out of four cuts and only managing a 48th place finish at the U.S Open at Pinehurst. Harris English can mount a challenge this year, but he will have to make sure he is a lot more prepared for the majors if he wants to get anywhere near Rory McIlroy.
Brooks Koepka
Now here is a player to watch out for. At the time of writing he has just won at The Phoenix Open after a brilliant final round 66. It's his first win on the PGA Tour and as a professional and at the age of just 24, he will be looking to have a very good season.
The man from Florida has three top-10 finishes out of three events and has already earned over $1.5million in tournament prize money alone.
Koepka finished 4th at last year's U.S Open and 15th at the PGA Championship at Valhalla, showing he can compete in the majors.
We think after his recent win in Phoenix Brooks Koepka will be a name that will be mentioned a lot this season. Future major champion? Don't bet against it.
Craig Middleton is a trainee broadcast journalist who is looking to pursue a career in golf journalism and has recently worked with the Open.com digital team. Follow Craig on Twitter @craigmiddjourno