TaylorMade R11 driver
TaylorMade R11 driver review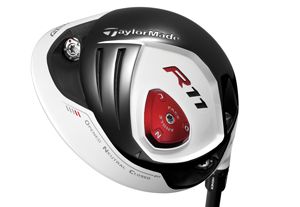 The key to distance is to get the set-up of the club right for you. By tweaking the club - or even better, being fitted to your personal specs - will help you produce 
the best results. There are obvious differences in flight depending on how the club is set. You can set up for a flight that gives you extra run or carry depending on turf conditions and the weather. 
It's hard to tell the head is smaller than most thanks to the white design. There was also no obvious loss in forgiveness and, the right set-up helps to reduce the effect of 
a bad shot. The impact sound is noticeably louder than previous models. This meant that, psychologically, shots that missed 
the middle of the club felt more powerful compared to other drivers. PGA pro verdict This looked amazing and I loved the functionality. It has made fitting easier by having a soleplate that adjusts the face, rather than the hosel doing it. It's an 'in your face look', but it will impress many. The first white driver I have used and there was one extra feature I noticed: you can see the swing path as you hit through impact, which could really help some (John Jacobs).
The standard shaft in the R11 is the Fujikura Blur 60 gram shaft, available in X, S, R and M flexes. The 360° graphics mean the visuals look the same regardless of the position of the shaft. Because of the flight control technology on offer the TaylorMade R11 driver is only available in 9° or 10.5° models. However, these heads can then be set 1° higher, 1° lower or 0.5° up or down.
The new TaylorMade R11 looks like no other driver at address. The 440cc head looks bigger thanks to the colour and the contrast with the black face. This also helps to line the club up with the target. The white will catch the eye and the use of the driver on tour will provide plenty of interest. The adjustability seems complicated at first, but is easier to set up than previous versions.
Movable weight affects the left-to-right flight, while unscrewing and resetting the shaft into the head sets the loft. A new adjustable sole plate adds a third custom option to the head. The face angle and loft can be adjusted independently. A section of the sole is unscrewed and reset (open, closed or neutral) to change the position of the face at address.
Paul joined Golf Monthly in 2006 in a junior role and has since worked as senior staff writer and now as technical editor. He writes equipment and instruction content and tests the vast majority of golf clubs that are introduced every year.