Bill Elliott's Open Championship preview
Turnberry has only held three previous Open Championships, each was won by a great of the game. This year a stellar field will once more compete for the Claret Jug on this most spectacular of courses, one that has been tweaked and extended to provide a tougher test to the top players in the world. Here Golf Monthly's editor at large Bill Elliott sums up why he is so looking forward to this year's Open Championship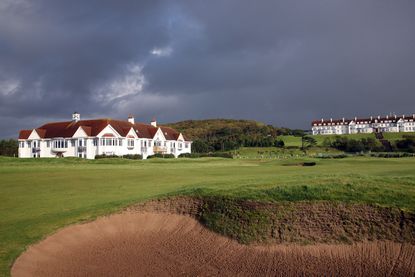 Twenty-three summers ago, around 11pm on a Saturday night, I sat outside the Turnberry Hotel and marvelled at the course laid out below and still bathed in sufficient light for me and my companion to follow the holes from one to 18 and even to catch a glimpse of Ailsa Craig, that most barren and beautiful rock of an island that marks the halfway sea point betwixt Belfast and Glasgow.
I recall that I had a beer in my hand at the time, my pal had a Coke. This was not surprising as (a) I like beer now and then and (b) while I was preparing to report on the final day of that 1986 Open he was getting ready to play in it. As events turned out he was preparing to win it but for an hour that evening Greg Norman just enjoyed the moment.
The Ailsa Course at Turnberry is a uniquely attractive place. If you have not been yet then make plans to go. I can think of no other course on the planet where anyone may do as we did that night, sit overlooking an entire, brilliant golfing scene. 'Terrific' doesn't capture it, 'magic' gets closer to what it is.
And what it is is a fantastic test of golf set in the most compelling of land and seascapes. The only reason that this Open will be just the fourth staged on this links is that the surrounding area is mostly given over to agriculture and so accommodation has been limited while road routes in and out have until recently been prohibitively narrow and limited.
Back in 1986 the weather had decided to play hopscotch with everyone. On Thursday it was brutal, on Friday it was fine, on Saturday brutal again and then Sunday turned out nice. Greg had opened with a 74, followed up with a record 63 (he bogeyed the last for this score) and then returned what was, for me, an even better round of golf on Saturday when he shot 74 in the fiercest of the foul weather.
In the end he won by five shots ahead of Gordon J. Brand and then a pantheon of Europe's finest lined up in the shape of Ian Woosnam, Bernhard Langer, Nick Faldo and Seve Ballesteros. He was, I seem to recall, a very happy bunny indeed on that Sunday evening.
But then Turnberry only seems to caress men of extreme ability and then only if they turn out to be genuinely decent blokes as well. In 1977, of course, it was Tom Watson who slipped ahead of Jack Nicklaus in possibly the greatest Open ever played; in '86 it was Norman and then in 1994 that most equable of men, Nick Price, took the title, slipping ahead of Jesper Parnevik by one shot when he holed a 50ft eagle putt on the 17th.
Just three Opens but some legacy to roll out before we sit entranced again to witness what happens this time. As ever, the weather will dictate almost everything. This is how it is with links golf and how it always will be. If conditions are benign then a posse of these guys will rip Turnberry apart and it will take at least 16 under par to have a chance. If the breeze rips in and brings with it rain then level par would be more than good enough I suspect.
Bill has been part of the Golf Monthly woodwork for many years. A very respected Golf Journalist he has attended over 40 Open Championships. Bill was the Observer's golf correspondent. He spent 26 years as a sports writer for Express Newspapers and is a former Magazine Sportswriter of the Year. After 40 years on 'Fleet Street' starting with the Daily Express and finishing on The Observer and Guardian in 2010. Now semi-retired but still Editor at Large of Golf Monthly Magazine and regular broadcaster for BBC and Sky. Author of several golf-related books and a former chairman of the Association of Golf Writers. Experienced after dinner speaker.