Review: First Suffolk Footgolf Championship
The tournament took place at Stonham Barns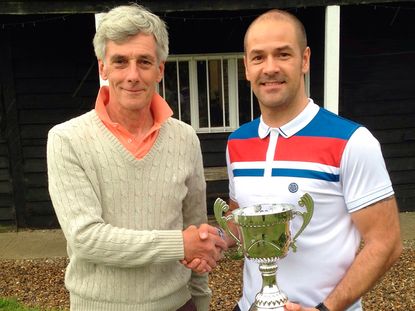 The inaugural Suffolk Open took place at Stonham Barns.
The first Suffolk Open Footgolf Championship was won by Kevin Ward on Saturday.
Ward, from Colchester, won the tournament at Stonham Barns with a score of 53 (-5) and has played in most UK ranking events
He scored seven twos on his way to victory over the rest of the 62-man field.
Daniel McLaughlin also scored 53, but lost out to Ward on count back. Four players - Liam Osborne, Chris Tranter, Darren Wheat and Ben Garnham - finished one shot back on 54.
During the day, there were three hole in ones, with Lewis Warnes, who finished with a 61, claiming two on the 2nd and 16th. Matt Prescott, finishing with a 58, got the other on the 7th.
There are currently over 120 footgolf courses in the UK, with 100 opening within the last year.
The sport adopts many variations on golf's rules, with the purpose of the game being to aim for a pin within a large hole.
One of the similarities can be seen when dealing with water hazards. If the ball lands in the hazard, it must be removed and played from two steps further back than the last point of land it travelled through before it found the hazard. A one point penalty is given, or a player is entitled to re-kick from the position of the previous kick, again receiving a one point penalty.
There are a number of regional Opens running through the year, including the Anglian Open, which takes place on July 4th. The Greater London Open will start eight days later in Surrey.
The North West and South West Opens take place in July and August respectively. The East and West Midlands Opens will be held in August and September before the UK Masters on September 20th in Doncaster.
Will Medlock graduated from UEA with a degree in Film and Television before completing a Masters in Sports Journalism at St Mary's in London. Will has had work published by The Independent and the Rugby Paper.