Golf Monthly Top 120 Course Rankings 2005/6
From Turnberry to Trevose, the UK and Ireland is home to some of the most stunning courses on Planet Golf. Read on to discover the aims and methodology and Golf Monthly's Top 120 Course Rankings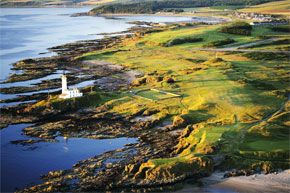 Welcome to the Golf Monthly Top 120 Course Rankings
At Golf Monthly we believe we have created a unique system for evaluating golf courses, the methodology of which we explain below. At its heart lies the belief that this should be a practical list compiled by golfers for golfers. To that end every review is taken directly from the assessment forms each of our panellists submits after every course visit. I hope their words inspire you to get out and play some of the best courses in the world. Course rankings are by their very nature subjective and I'm sure our list will prompt much debate – and to that end I welcome feedback from golfers and clubs alike. I would like to take the opportunity to thank all the courses featured for hosting our panellists, because without their kind co-operation producing the rankings would simply not have been possible. Michael Harris Editor, Golf Monthly michael_harris@ipcmedia.com
How the rankings are complied In 2004 Golf Monthly launched its Top 120 Course Rankings. The aim was to bring a new perspective on course rankings and produce a true golfer's guide to the best courses in Britain and Ireland. To implement that vision Golf Monthly invited club golfers from across the UK and Ireland to apply to become a course assessor by outlining their golfing experience, interest in golf courses and current handicap. We received well over 1,000 applications and over 500 of those golfers have become members Regional Course Rankings Panel. From that pool we then hand picked a panel of 30 golfers based across Britain and Ireland to assess the shortlist of 175 courses that wished to be considered for a place in the final list of the Top 120. These club golfers are supported by four members of the Golf Monthly editorial staff and between them they were given the remit to visit all the clubs on the shortlist. By the time the assessing window for the 2006 rankings closed at the end of August this year, the 19 golfers on the panel had played over 750 rounds on these courses.
How the courses are assessed The 175 shortlisted courses were judged against the following four criteria:
Quality of test and design Presentation Visual appeal and enjoyment Ambience
Assessors give each course a mark out of 20 for the two criteria we felt to be most important – "quality of test and design" and "presentation". Then two further marks out of 10 for "visual appeal and enjoyment" and "ambience". These are all totalled together to give an overall mark out of 60. Golf Monthly panellists are briefed in detail on what elements to pay particular note to when assessing each criteria. For example, when judging the "quality of test and design", panellists are urged to consider the variety of holes, fairness of the test and strategically-positioned hazards. The "presentation" category looks at the condition of the course with particular attention paid to the quality and consistency of the greens, definition of fairway and rough and the condition of course furniture. The mark for "visual appeal and enjoyment" is awarded on the aesthetics of the course and takes into account the views and scenery on offer. The final category of "ambience" evaluates the overall feel and atmosphere of the course and club and is a good indicator of how welcoming a club is to visiting golfers. A decimal points system allows panelists to distinguish between clubs that are similar in certain categories. For example the difference between a 16.1 and a 16.8 in the "presentation" category may lie in the way the bunkers are maintained. In a bid to make the rankings as comprehensive and practical as possible we did not limit the assessors' remit to simply evaluating the course in terms of its design and condition because we don't believe it's useful to simply produce a list of the most testing or best-designed courses in Britain and Ireland. Golf Monthly's aim was to offer a more rounded view, taking into account factors which have a major impact on a golfer's enjoyment of a day out, such as the welcome one receives, the facilities available to visitors and the value for money the day represents. Unlike other rankings, Golf Monthly insists its panellists have actually played the course to put in an assessment and also for that visit to have been in the last two years so as to take into account changes to the course and/or clubhouse, be they for the better or worse. We feel that our approach produces a true golfer's guide to the best courses that you can rely on to plan future visits.
Golf Monthly Top 120 Course Rankings Assesors
Golf Monthly Staff Panel Michael Harris (7 handicap) Neil Tappin (5 handicap) Alex Narey (18 Handicap) Jeremy Ellwood (5 handicap) Fergus Bisset (1 handicap) Paul O' Hagan (5 handicap) Luke Norman (8 Handicap) Rob Smith (12 handicap)
Golf Monthly reader panel George Asprey (Southern 4 handicap) Simon Beattie (North West 11 handicap) Tim Browne (Ireland 3 handicap) Connor Browne (Ireland 6 handicap) Bryan Bull (Southern 15 handicap) Robert Davey (South West and Wales 13 handicap) John Drake (Midlands 10 handicap) Alan Ferguson (Scotland 2 handicap) David Fleet (Midlands 11 handicap) Stephen Green (Southern 18 handicap) Iain Houston (Scotland 3 handicap) Martyn Hocking Southern 17 handicap) Colin Lavender (South West and Wales 8 handicap) Eric Lee (North West 15 handicap) John Lorimer (East 3 handicap) Richard Meek (Midlands scratch) Christian Morris (Southern 6 handicap) Malcolm Peake (Southern 8 handicap) Dermot Parker (Ireland 3 handicap) Graham Presland (Southern 6 handicap)John Thynne (18 handicap) Allan Probetts (South West and Wales14 handicap) Alun Willis (South West and Wales 6 handicap) Gareth Williams (North West 7 handicap) Rod Wiltshire (South West and Wales 9 handicap)
Mike has been a journalist all his working life, starting out as a football writer with Goal magazine in the 1990s before moving into men's and women's lifestyle magazines including Men's Health, In 2003 he joined Golf Monthly and in 2006 he became only the eighth editor in Golf Monthly's 100-plus year history. His two main passions in golf are courses, having played over 400 courses worldwide, and shoes; he owns over 40 pairs.
Mike's handicap index hovers at around 10 and he is a member of four clubs: Hartley Wintney, Royal Liverpool, Royal North Devon and the Royal & Ancient Golf Club of St Andrews.