The Open Tom Watson didn't win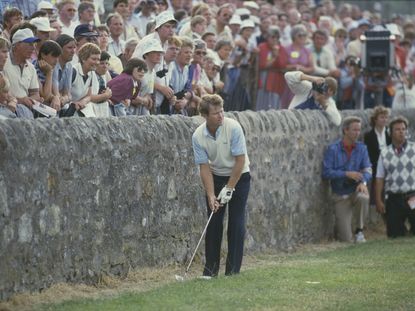 Tom Watson's career in the Open is arguably the finest of all time, yet the one Open venue in Scotland to repel his advances has been St Andrews
The greatest Open career of them all is likely to come to its end on Friday, or perhaps on Sunday if Tom Watson makes the cut. He nearly won at the age of 59 in 2009 at Turnberry, so you can't rule out Watson playing the weekend this week aged 65. And if Watson somehow finishes in the top-10, if he can "catch lightening in the bottle" as he puts it, then he will qualify for - and play in - the 2016 Open.
Watson won the Claret Jug five times between 1975 and 1983. His Open record is legendary, yet in 1984 here at St Andrews, he was so close to completing his Scottish set, as St Andrews is the only Scottish venue on the current Open rota on which Watson has not won (1975, Carnoustie; 1977, Turnberry; 1980, Muirfield; 1982, Royal Troon).
A 66 earned Watson a share of the third-round lead with Ian Baker-Finch in that 1984 Open, but on his day of ultimate golfing reckoning, Watson hit his approach to the Road Hole too far, leaving his ball just inches from the stone wall behind the green, and a resulting shot was dropped just as up ahead on 18, Seve Ballesteros sunk one of the most famous birdie putts in Open history. "It was the happiest single shot of my life," Ballesteros would later say. The Claret Jug went to the Spaniard for the second time, while Watson was forced to settle for his famous five.
"I played very well but I putted very poorly," Watson tells Golf Monthly. "It was a bad week on the greens for me. It was for Bernhard Langer too. He hit the ball beautifully – we both did and we both lost a lot of good scoring opportunities because of the putter."
"My putter would not co-operate," concurs Langer. "I felt I out-played Seve from tee to green in that final round, but he was the master on and around those greens, and out of bunkers. In some ways it looked as if Seve should have been two shots behind, but instead he finished two shots ahead. That was Seve, with his touch, feel and imagination. Whenever you thought Seve might be in trouble, he found a way to come out on top. Ultimately, it was wonderful to be a part of that Open and to be next to Seve.
"You never quite know how the golf will be remembered when you are in the heat of the moment, but soon after that final round I realised it was an historic moment, with Seve winning another Open, this time at the 'Home of Golf', and with his distinct style."
But back to Watson, as he prepares to bid farewell to the Open, and if you have any doubt whether he is the greatest Open golfer of all time, consider what Jack Nicklaus told Golf Monthly on the matter:
"Tom's legacy in The Open is as great as anyone's in history. He won five times and Harry Vardon won six. James Braid, JH Taylor and Peter Thomson also won five, but Tom's victories came in the modern era and with arguably the game's toughest fields. That is not taking anything away from any other champions; they were all tremendous players. I just believe that for Tom to beat the people he did under those conditions, in my opinion his legacy has been cemented as the greatest to play in The Open."
Robin Barwick travelled to The Open with Mercedes-Benz. Mercedes-Benz is Proud Patron and Official Car of The Open
Robin has worked for Golf Monthly for over a decade.