Inside Aladdin's Cave... Finding Second Hand Golf Clubs
We were invited on a behind-the-scenes tour of the highly impressive Golf Clubs 4 Cash in Edinburgh. Here's what we found...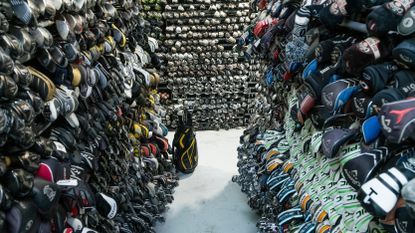 (Image credit: Tom Miles)
Golf Monthly Newsletter
Golf tips and expert instruction, golf club reviews and the latest golf equipment.
Thank you for signing up to . You will receive a verification email shortly.
There was a problem. Please refresh the page and try again.
With golf's rising popularity coinciding with the cost of living crisis, more and more people are turning to the second-hand market to fulfil their needs. Whether it's beginners keen to get into the game or people returning from a prolonged absence, golf is booming, but putting together a set of brand new clubs has arguably never been more challenging.
With that in mind, myself and two colleagues took a trip to what can only be described as a golfing haven; an Aladdin's cave of golf equipment that would be enough to inspire even those who have fallen completely out of love with the game. That place was Golf Clubs 4 Cash, Europe's largest supplier of second-hand clubs with some 25,000 items available in-store and online.
First impressions
Located just outside Edinburgh, as soon as you step through the doors it's hard not to be blown away by the scale of the operation. It may have started small, but Golf Clubs 4 Cash has grown exponentially. I remember visiting some five years ago and what I saw now compared to then was unfathomable.
On the shop floor, which houses more clubs than most major retailers, is an endless stream of shelves, all packed to capacity. From drivers down through the bag to putters, it's hard to even guess how many sets could be put together from what is just a fraction of the stockpile.
All the major brands are covered, with even some of 2022's latest releases taking pride of place alongside their predecessors. But there were also a few surprising inclusions. Despite the name, selections of new shoes, clothes, bags and trolleys sit in the middle of the store.
Everything is laid out immaculately by section and brand, which includes an area for left-handed clubs as well as one for women's and junior clubs. Anyone wandering in with a clear idea in their mind could be in and out in a flash.
Back in time
Taking some time to scan the room, it's quickly apparent there are more than a few hidden gems from a bygone era to tempt those in the mood to indulge their sentimental side. Things like the Mizuno T-Zoid T3 and T-Zoid Forged drivers that date back to before the turn of the century stand out. And believe it or not, these aren't one-offs. Far from it. Nor are they the oldest clubs in stock. This is but a glimpse into the magic of this place.
"I mean, if you name me almost any brand or any product that's spanned the last 30 years, I would hedge my bets that we have it in stock," said Dean Cracknell, Head of Marketing at Golf Clubs 4 Cash. "Certainly at the top end and major brand side of things. I think at the low end, it's less likely that we would have less reputable brands in stock at a given price, but we would have comparable solutions. With 25,000-plus items, we're confident we can deliver something the golfer is looking for."
I also came across some of the eye-catching Nike Sasquatch drivers from 2005, a few of which were brand new and still in the original wrapper. On a personal level, as someone whose game peaked around 2008, I was on the lookout for the two clubs I remember most fondly from that era: the TaylorMade R580 XD driver and the Yes C Groove Tracy putter.
I'll be honest, I held only a little hope that I would find either. The driver certainly wasn't on display while only a smattering of Yes putters were deemed worthy enough to make the shop floor cut. But this is when we were taken through to the heart of this facility's online operation.
Unmatched service
While most of the buzz from the shop floor comes from customers, the opposite is true when touring the area in which the Golf Clubs 4 Cash team take and process online orders. Even on a quiet Wednesday, the noise of clubs being pulled from the rack and securely boxed seemed to permanently permeate the background.
It is here where I found what I was searching for. The driving force behind the love I had for the game as a teenager. The TaylorMade R580 XD. Truth be told, there were more than a few of them, some even sported the classic sock headcover. The memories. On another day I'd have bought one there and then. But that's not to say I left empty-handed.
Back to reality, however, and it was amazing to watch the Golf Clubs 4 Cash team in action. At no point during the tour was there a moment when any of them could be accused of stealing some downtime, while their efficiency in turning round online orders was remarkable. On top of that, the service provided here as a buyer and seller of old golf clubs is unique, as Dean explained.
"The cons of buying second-hand clubs, in most cases, are things like warranty and guarantee. Golf Clubs 4 Cash covers equipment with a six-month warranty. We've got an unmatched service level and products that are not only affordable, but given the current climate and the challenge with supply chains, we've also got products in stock, which is hypercritical right now. We have a team of 10 people that deal with inbound inquiries regarding our product listings. As a private seller, it's on you.
"[As a buyer], it's so simple. Send us a quote, if it's high enough value, we'll pay for the collection. You haven't got to pay for anything or find a box. We'll verify what you've sent us and then we'll transfer the cash. You could send us a box on a Monday and be paid by a Wednesday, which is nominal really. And even faster if you live in Edinburgh and come to the store.
"We have a business that functions pretty much 12 hours a day, seven days a week. And intermediary solutions outside of business hours, things like chatbots and messaging services. But beyond the service you get fair market rate driven valuations and prompt and efficient service. We're service led, that's our main focus as a business."
In addition, customers ordering early enough in the day will usually receive their goods within 24 hours. They're also given a 14-day trial period. It's for that reason many people will purchase, say, two drivers, as it gives them the chance to put both through their paces and determine which one is worthy of a spot in the bag.
How clubs are valued
There is a commitment to valuing everything and anything, but it can't be promised that everything has a value. That's why there are some important things to remember for those looking to get the most out of their old gear. The first, as Dean says, is to remove all sentiment.
"My best advice is that as soon as you are thinking of selling clubs, sell them. The longer you hang on, the more likely they are to become devalued either by age, or should you continue to use them, by condition.
"There are exceptions when it comes to collectables, but there are fewer collectables than we're all led to believe. For example, the Ping Anser you've got in the shed is not likely to be a one-off or limited edition Ping just because it's 40 years old. Invariably, it's worth two or three pounds and it's going to be worth 50p in about 12 months' time."
The condition is also obviously of paramount importance. There are three general ratings that clubs will be categorised by in relation to - very good, good and poor - and these go a long way to determining the resale value. While some of it is beyond your control, there are, again, some simple steps to take that'll maximise your return.
"Putting a fresh grip on, cleaning the golf club, ensuring that, in the case of woods, it comes with its original headcover and perhaps a torque wrench - they all add value to the products," adds Dean.
"We see a lot of equipment in very poor condition because it's filthy, there's no headcover and the resale value is compromised because there's no viable way to adjust the product in the case of a driver. So they're the easy things.
"Shafts we often see as being a real issue and that's not necessarily because the golfer has been negligent. It's actually their golf bag that is damaging the shaft and causing wear. So as much as we're predominantly talking about golf clubs here, golf bags are integral to maintaining the condition of your golf clubs."
Back to my own mission and after locating clubs from my past, my attention turns to the future. I'm on the hunt for a two-iron to fill a hole in my bag. Being from Troon, it's something that can come in very handy when the driver misbehaves - as is all too often the case - but my expectations of finding a perfect match for my set are obviously not high. And when I say a perfect match, I'm talking predominantly about the shaft.
Within two minutes, I've picked out a handful of Titleist U500s that I like the look of. Sifting through, I quickly spot the familiar red Nippon logo, and on further inspection, I find two models with the exact same extra stiff N.S. Pro Modus Tour 130 shaft that features in my current set. Incredible. The staff even took it to the workshop to check the loft and lie angle were on point. It's already proved a worthy addition in my quest to banish the demons that rear their ugly head whenever I step on the tee of Royal Troon's famous 'Railway' hole.
The risks
As with anything, there are risks associated. And chief among them for the business and its customers is the counterfeit market. It's one of the reasons why people should always buy from a trusted source, whether that be a friend, an online retailer or a physical store. As Dean told us, the Golf Clubs 4 Cash team has come across 'fake' clubs even at some of the most famous venues in all of golf.
"The market is awash with counterfeit goods and if you're buying through places like Facebook marketplace or Gumtree where you're dealing one to one with an individual, there is scope for you to not be buying the genuine article," he said.
"The likes of ourselves and reputable dealers, not only do we have our own integrity to preserve, but also we're qualified to a greater or lesser extent to ensure the inventory we buy is genuine. It's rare to do a trading event, even at major championship clubs, and not see at least one counterfeit club. We're incredibly vigilant and somewhat qualified, which is why I would always encourage consumers to buy from reputable dealers."
So, how do you spot a counterfeit?
"A lot of it is experience. Whilst counterfeit products and copies are great, there are enough variables for us to determine whether it's genuine. When we receive equipment and book it into our inventory, we go through a process of determining its specifications. We will measure it for length and swing weight and things like that. Total weight is a really good indication of a counterfeit club. Quite often they're a lot lighter; the density of the materials they are using are of poorer quality.
"And then things like replicating the brand logo are not often the same. Even some of the colour palette of the brands, be it reds or blues or yellows, they're never exactly the same. I wouldn't say it's easy, but we have enough experience within the business to be able to determine in most cases if it's a genuine product or a counterfeit."
All this isn't to say that they have never been caught out, however. In fact, Dean is kind enough to show us an example of a knock-off TaylorMade M6 hybrid that slipped through the cracks. Honestly, but for a hint in the right direction, I'm not sure I'd have ever told the difference.
Sustainability
An element of this business model that it would be easy to overlook relates to the environmental impact. As most will be aware, there is an ever-increasing need for everyone to play their part in living a more sustainable life, thus reducing our carbon footprint. In this regard, every act, big or small, makes a difference, even when it comes to golf equipment.
By buying and selling old clubs, the lifespan of all products that cycle through the Golf Clubs 4 Cash headquarters is extended, meaning less resources have to be committed to disposal and the manufacture of new gear. And if that's not a worthy cause, I don't know what is.
A lifelong golf fan, Andy graduated in 2019 with a degree in Sports Journalism and got his first role in the industry as the Instruction Editor for National Club Golfer. From there, he went on to enjoy a spell freelancing for Stats Perform producing football reports, and then for RacingNews365 covering Formula 1. However, he couldn't turn down the opportunity to get back into the sport he grew up watching and playing and now covers a mixture of equipment, instruction and news for Golf Monthly's website and print title.
Andy took up the game at the age of seven and even harboured ambitions of a career in the professional ranks for a spell. That didn't pan out, but he still enjoys his weekend golf at Royal Troon and holds a scratch handicap. As a side note, he's made five holes-in-one and could quite possibly be Retief Goosen's biggest fan.
As well as the above, some of Andy's work has featured on websites such as goal.com, dailyrecord.co.uk, and theopen.com.
What's in Andy's bag?
Driver: Callaway Mavrik Sub-Zero (9°)
3-wood: TaylorMade M1 (15°)
Driving iron: Titleist U500 (17°)
Irons: Callaway Apex Pro '19 (4-PW)
Wedges: Titleist Vokey SM9 (50°, 54° and 58°)
Putter: Titleist Scotty Cameron Newport 2.5
Ball: Titleist Pro V1