Golf blog: magical Mauritius
Golf Monthly blogger Martyn Norris reflects on a recent golfing trip to the island of Mauritius in the Indian Ocean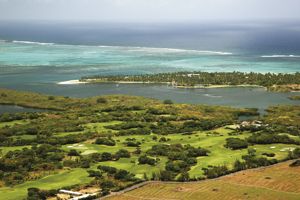 Ok, so I have been a bit rubbish writing my golfing gibberish this year, but at least I have started. New Year's resolution number one.... Be more disciplined and Blog more!
Actually, I did start a piece on Justin Rose after his wonderful US Open victory, but was a bit slow out of the traps and by the time I had composed part one of my JR biography, it had pretty much all been written. So, what does one focus on looking out the window of a South West Train heading into London on yet another cold and grey December day? Blue skies and sunshine of course! So here goes, something a little different... a destination review.
I make no secret to the fact I am a fair weather golfer these days... I've done my time of battling to make a few quid in professional winter leagues and donning 4 layers, getting throughly cold and miserable only to get knocked out of the club winter foursomes before Christmas. Indeed, my clubs are firmly behind the BBQ in the shed now and only a trip a very long way South will persuade them to come out before The Masters. Where to go?
For me, Mauritius takes some beating. I have been lucky enough to venture to this beautiful Indian Ocean island twice now and both times the long flight home has left me with great memories and a yearning to return.
The people are wonderful. Friendly, kind and very well trained in serving the demands of even the most critical Brit or Frenchman. Located a few hundred miles east of Madagascar, the island is surrounded by turquoise blue waters, white sandy beaches and high class resorts, many of which have golf on-site. The island is small. You can reach pretty much anywhere from your starting point within an hour or so on reasonably well maintained roads.
Fortunately, my wife plays occasional golf so Mauritius was an obvious choice on our short list of honeymoon destinations. Having drooled numerous times over the advertisement with the overhead shot of the Bernhard Langer designed island course at Le Touessrock (http://www.letouessrokresort.com), Mauritius was the easy winner and so off we trotted in the depths of the December Blues. Marvelous!
As you would expect/hope, we didn't play a great deal of golf but we did manage to make it to Il Aux Cerfs to play the island course, spread over two days, 9 holes and lunch each day... well it was our honeymoon. In truth, it isn't a great golf course. Way too tight for the average resort golfer, probably something to do with the fact that the German was capable of hitting a 2-iron through the eye of a needle in his hay day and presumably when he started sketching this layout. That said, the condition of the golf course could not be faulted, there are some interesting holes plus the theatre of boarding a boat with your clubs on your back is something that every golfer should do at least once in their lives. Away from the golf course, you simply must eat at Safran, Le Touessrock's fine dining Indian restaurant - a real culinary treat not to be missed. What about the resort at Le Touessrock? Add it to your bucket list - you won't be disappointed! It's awesome!
Next stop, Bell Mare Plage (http://bellemareplagehotel.constancehotels.com). Home of the Mauritius Open and also the first golf course to be built on the Island - The Legend Golf Course which is a very enjoyable test of golf requiring a strategic game plan. The poor French fella I paired up with for nine holes must've lost at least 20 balls. Straight driving is a must! My preference though, especially on holiday would be to take a short shuttle to the hills and play The Links Golf Course. It's nothing like a links by the way but nonetheless will allow you to open your shoulders a little and admire some terrific views and enjoy excellent greens. The resort itself is vast and geared up more for families than honeymooners. That said, the private beach is one of the best I have ever seen and perfect for a stroll along the warm breaking waters of the Indian Ocean. Snow back in the UK delayed our return flight. Shame. However, Lisa and I were feeling a little "resort whacky" so we hired a car and enlightened ourselves to some 'real' Mauritius including a short stop in the capital city - Port Louis. The capital is a lively place and driving through it is not for the faint hearted! I'm not sure I would rush back to Port Louis but if I were to return, I would like to be accompanied by a local to guide us in the right direction of the non-touristy spots.
Beautiful Belle Mare Plage
Long suffering fair weather golfers like I will remember the early part of 2013. Wet. Raining. Wetter. More rain. In fact, for about 10 months following a drought warning in April 2012 it hardly eased. Enough was enough, a quick call to my good friends at www.yourgolftravel.com and Lisa and I were booked to return to Anahita (http://www.anahita.mu), located on the other side of the shallow bay from Il Aux Cerfs. There are two resorts in the grounds of Anahita. The appropriately named Anahita - The Resort and Four Seasons, Anahita. March is the shoulder season (about 30 degrees with the occasional sprinkle of warm rain :-) so the resort was far from full and it felt like we had some sort of preferential access. We stayed at The Resort, it is wonderful - just the right balance of tranquility with atmosphere. Great service without being overly 'in your face'. The accommodation outstanding. But what about the golf at Anahita?
It's hard to start any review of golf in Mauritius without setting the scene first. The idyllic surroundings are essentially part of your pre-game preparation. Nowhere more so that at Four Seasons Golf Club, Mauritius at Anahita (http://www.fourseasons.com/mauritius/golf/), a bit of a mouthful so I will refer to it as Anahita.
Not one renowned for the length of time I spend on a practice ground plus this was my first outing following shoulder surgery in October 2012 it was kind of hard not to venture for a practice swing or two. Greeted by Blyth Reid - Director of Golf, who knows more than a thing or two about service (previously Blyth had been stationed at Fancourt in South Africa), Lisa and I headed for the course via the range - there is an awesome short game area and a beautifully manicured driving range flanked by tropical shrubs and trees. Four blows later, shoulder fine, temperature around 26 degrees I was sufficiently warmed up enough to make my way to the first tee, stopping briefly to indulge in a fragrant ice tea and a freshly baked cookie en-route. A nice touch!
Perhaps I was caught up in the daze of my honeymoon during my first visit to Mauritius but I don't remember too many holes from Le Touessrock or Belle Mere Plage. Not so at Anahita. The par-3's are thrilling, especially from the Els Tees where nothing but a perfect shot will find the target. It is hard to pick a favourite. The 5th tee juts out into the ocean and you have to play over the bay to a difficult target. Spectacular! The 8th is an awesome short hole, probably my favourite, but for many resort golfers I suspect the 17th may be the chosen one. The shortest par-3 on the course sits invitingly into the turquoise blue bay. Don't be fooled however, despite measuring only 144 yards from the back tee, the hole is exposed to coastal winds and a high ball flight will leave a difficult second and par a bonus. Notable par-4's include the super difficult 4th, the risk reward 9th. The 10th is a fabulous looking hole played uphill between swaying palm trees. The 11th is played from an elevated tee with an inviting fairway. Before you head to the next, pause for a moment and look back to the tee, for sure you will be reaching for your camera. And so to the 18th - what a pleasurable hole to finish on. It isn't a great golf hole but if there is a more enjoyable final 500 yards anywhere, please take me there now! I thought I had lost my tee shot in the Indian Ocean. Not so, there it sat on the extraordinarily wide fairway. I thought I had parked my second shot in one of the beach hut spa treatment rooms. Not so, there it sat just off the fairway! (Trust me, to miss this fairway takes a pretty wild swipe). A wedge and one putt later made the first beer of the day taste very good indeed!
Hot but not particularly bothered, it was time for some lunch under the thatched roofed clubhouse. Blyth was kind enough to join us and tell us more about the Ernie Els designed course and the golf set-up at Anahita - residents may play as often as they wish. The clubhouse menu was, like everything at Anahita - well balanced and the food was of a very high standard. So, my golfing tip this winter: Head to Mauritius. Stay at Anahita. Send me a post card thanking me.
Seasons Greetings my golfing chums!
About me:
Career earnings as a PGA Professional of
£328.75 were never quite going to make the grade but my love of golf is
as intense as ever. MD of Jenahura, Marketing Director of Bearwood
Lakes. Passionate for; life, my wife Lisa, Mum & Dad, a wonderfully
diverse array of Friends & Family, a cold beer, fine food, fine
wines, traveling the world, sport and music.
www.jenahura.com twitter.com/martynjnorris twitter.com/jenahura facebook.com/jenahura
twitter.com/bearwoodlakes facebook.com/bearwoodlakes
The leading website from the world's oldest golf magazine, we're the go-to destination for amateur and keen golfers alike who are keen to up their golfing game. As well as expert course reviews, news and tips to improve your handicap our golf-focused travel content will help you pair teeing off with your travels in some of the best destinations around the globe.