Golfing in Vietnam
Golf Monthly's James Mason takes a trip to Vietnam where, besides partying, he's enjoyed golf at Danang Golf Club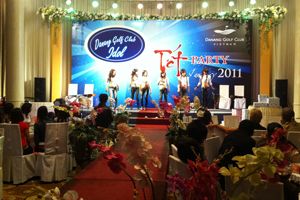 I was fortunate enough to be invited by Howie Roberts, general manager of Danang Golf Club and Phil Wright the head pro, to the end of year staff party. I am currently out in Vietnam reviewing a new golf destination that has two great tracks designed by winning Ryder Cup captain, Colin Montgomerie, and two-time Open champion, Greg Norman. There will eventually be seven courses in Danang, with a new IMG course on its way.
Back to the staff party! Howie explained to me that they have three big parties a year, and these are not your normal down the pub/restaurant affairs, these are full on events. They are great fun to attend, not only for the local staff but everyone involved at Danang Golf Club (opens in new tab).
Golf Vietnam: Guide to golf in Vietnam
The theme is American idol and the caddies, waitresses, reception staff and greenkeepers all get involved and I am told, take this very seriously indeed. All the staff spend the year practising their routines and trying them out on family and friends in preparation for the big event.
They certainly go at everything in a big way here and with such enthusiasm. Believe me, the Vietnamese do know how to party! I said to Phil and Howie to not be surprised if you get a group of GM readers turning up next January knocking on your door, asking for an invite. If you're lucky enough to get a positive reply, you will have a great night.
With a bottle of beer at 65p and with some stunning new restaurants and bars, Vietnam is certainly a destination worth visiting before it gets too commercialised, which you can see happening now with the amount of resorts being built along the shoreline. It's a place I would certainly recommend for a golf tour, you will have a fantastic time on and off the golf course. Back to the party...
Return to the Golf Monthly homepage
James Mason is a senior contributor for Golf Monthly magazine and editor of planetgolfreview.com and has producing destination and equipment reviews for Golf Monthly, Greenside, and Middle East Golfer magazines. He has also produced destination features for Golf World and Going for Golf magazines and interviews for Middle East Golfer and Qatar Airlines. James was captain of Coventry university golf team and now plays off a 5 handicap.